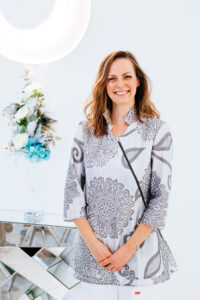 Doctor of Dental Medicine
Paula Kevrić is a doctor of dental medicine. She graduated in 2012 from the University of Rijeka, School of Dental Medicine. She actively participates in conferences and courses in order to continue her education and improve her knowledge. The latest techniques and methods are very important in her field of expertise. When dealing with her patients the doctor is very communicative, easy to talk to, patient and meticulous especially with children and patients of high aesthetic demands.
Her field of interest are endodonics with restorative dentistry, pedodontics, periodontics, as well as aesthetic dental medicine (focusing on smile aesthetics "Smile design" and face aesthetics in general). She is a member of Croatian Dental Chamber. The doctor is also one od the authors of the scientific paper "Types of children's behaviour at the office of dental medicine" – HRČAK –portal of scientific magazines of the Republic of Croatia.
Education and certificates
October, 2018 Zagreb, Orthopraxis – Course in Diode Laser Application in Soft Tissue Dentistry, dr. Gergerly Gotz
May, 2018 Zadar , Aesthetic Dental Moment
April, 2018 Zagreb, Endoret® (PRGF® ) – Aesthetic and Gel,  Dr. Nikola  Milojević
June, 2017 Split, 3M Health Care Academy: 2nd Regional Dental Conference
February, 2017 Split, Dentistry Today 2017
March, 2016 Zagreb, Initial Nonsurgical Periodontal Therapy
March, 2016 Zagreb, Minor Surgical Procedures in Periodontology
September, 2015 Šibenik, Implants and Superstructures
April, 2015 Zadar, iTop Curaprox Education (Individual Training of Oral Prevention)
September, 2014 Zagreb, Top Results in Orthodontics
October, 2013.Zadar,Machine Procedure of the Root Canal Using the Biorace system